2D & 3D CT Systems
Computerised Tomography
Here at Aegleteq we also offer a wide range of 2D and 3D CT (Computerised Tomography) Systems.
Computerised Tomography or CT is a method of carrying out NDT on a product but with much added value from this technique. Such as
"Assured analysis of both materials and defects"
Inspection
"Actual/target situation comparisons to check for dimensional accuracy, deformation or inner wall thicknesses. Also reverse engineering on heritage castings/parts"
Geometric Modeling
Using CT, defects in objects to be inspected can be depicted almost independent of their shape and size, thus enabling an assured analysis of both materials and defects. For example, the three-dimensional depiction free of overlapping segments makes it possible to clearly identify flaws. Results like these supply valuable knowledge for the further utilisation of the inspected item within the production process. Above and beyond that, the production process itself can also be re guided via defect recognition.
Yet another key task of quality assurance is the measurement of component geometries, e.g. in assessing prototypes. Unlike tactile and optical methods of measurement, CT enables not only the measurement of external geometries, but also inner geometries and inaccessible areas in and on components Production dimensions toward prototype qualification can thus be controlled, yet CT also allows for an analysis of flaws according to their shape, size and position as well.
Following the CT scan, the inspection object is available as a data model, including all internal and external surfaces and dimensions. When making decisions it is now possible to revert from the existing inspection object directly back to construction-design data on the basis of this data model. For instance, the dataset can be used toward a new or converted construction of the inspected object in the course of reverse engineering. Another option is the usage for actual/target situation comparisons to check for dimensional accuracy, deformation or wear and tear.
YXLON are the leaders in this field with many measuring tasks previously only done by surface only CMM systems, now possible including internal geometry, now feasible by CT.
Aegleteq supply
YXLON CT Systems
 Which apply all of the above techniques as well as Volume Graphics Software. World leading software for reconstruction and analysis of CT data.
The basic setup of a CT system consists of an X-ray source for beam generation, a manipulator to position the object to be inspected, a detector (LDA or FPD) to capture the radioscopic image and a computer unit for image generation (reconstruction), image depiction and analysis. In the case of computed tomography, radioscopic images of the object to be inspected are generated with the help of X-ray beams from several angles. Those images are subsequently computed to create a three-dimensional image. The manipulation system must therefore make sure that either the inspected object or the X-ray tube / detector unit can rotate around a 360° axis as well as be vertically adjustable. A high degree of precision and stability is necessary hereby in order to obtain reproducible ima.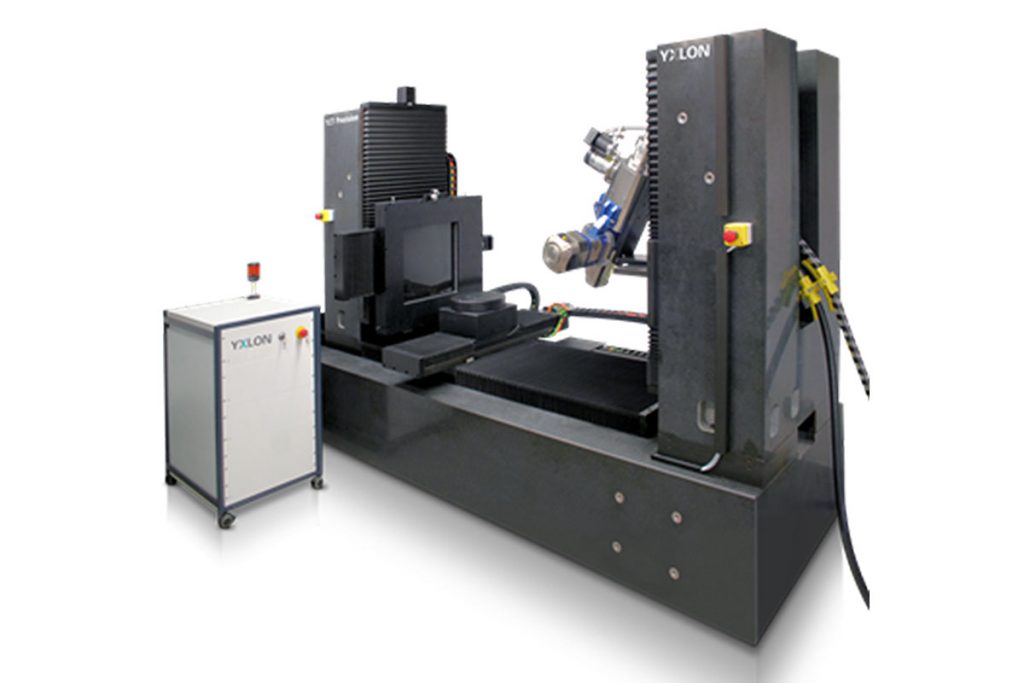 Download product brochures